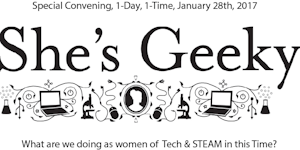 This year more than ever, we owe it to ourselves as women and as professionals in science, technology, engineering, art and math to come together as one amazing network of networks to re-inspire and re-plot our paths forward in 2017.  
No matter who you voted for or donated to.  Whether you cringe, smile or puzzle at the phrase "she's geeky".   If you're a woman out to build great products, do great science, be celebrated for your talent and skills or reshape workplace realities for your own generation OR the next,  there is no place more important to be Saturday,   January 28th,  precisely one week after Women's Marches in cities across the country immediately following the inauguration. 
The Unconference* format pioneered by She's Geeky is perfect for the task.  Come alone.  Come with your colleagues and friends.  Bring your daughters.  Bring your mothers.  Most important,  bring your resolutions, your fears,  your unknowns,  and your proposals for the sessions that will fill the day.    
Together we will consider the Calling Question:  what are we, the women of Technology & STEAM, doing in this time? Old assumptions have been called into question. New actions are called for. Every day. In almost every aspect of our identities.
Doors open at 9am, Agenda Creation 10-11am, Final Circle 5-6pm

Space for 50+ one hour conference sessions during the day

Continental breakfast, lunch, afternoon snacks and drinks included, budget allowing. 
For additional information please visit:
www.eventbrite.com/e/shes-geeky-special-2017-edition-tickets-9166532345
WHEN
January 28, 2017 at 9:00am - 6pm
---